Wake up and do These Early Morning Exercises ...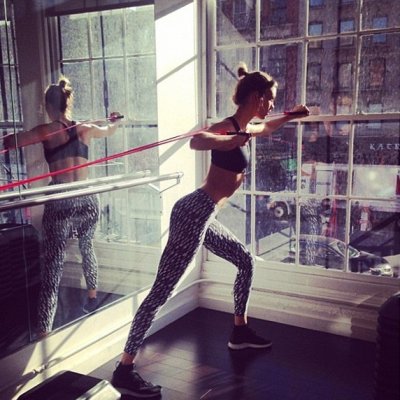 Awaken your muscles, increase the blood flow and get ready for a great day with these awesome early morning workouts. If you wake up and get your body moving, you will have a surge of energy, think clearer and just feel better. And if you love these workouts, perform several sets to make this part of your daily life. So what are you waiting for? Get up, get going and follow along with these great workouts!
1.

Wake up Your Body with a 10-Minute Pilates Routine
If you want to wake up your body, relax and get ready to embark on your day, follow this 10-minute Pilates routine. This routine will stretch your body out from head to toe and help you to feel your best. So follow along, enjoy the view of the ocean and wake that body up as you do this super Pilates workout!
2.

Check out This Fast Fat Burner
Four exercises two times through, with a short duration. These exercises are super high-intensity to push yourself to the next level. Eight minutes pushing strong will have you getting in your best shape in no time. So get focused and in the power zone to work your total body!
3.

Get Toned and in Shape in 10 Minutes
Try this effective workout to get in your best shape. These exercises are targeted to help you get in shape. Follow along so you can make the most out of every workout. With proper form you will see the best results and get fit and fabulous in no time! If you are ready, get started and wake that body up with this wow workout!
4.

Wake up with 16 Minutes of High Intensity
For 20 seconds hard and 10 seconds rest, push your body to the next level. This fitness blender workout will bump it up to the next level with a cardio blast. Just make sure you warm up and cool down on your own, as this is not in the video. And wake your body up as you get your sweat on.
5.

Wake up Workout with Basic Moves
Aside from this video having my favorite inspiring song, all the moves are basic and easy to follow. This workout will have you easing into waking up your body, increasing blood flow and helping you prepare for the day. Awaken your senses with a smile as you do this great workout!
6.

Have Fun and Get Fit in 5
If you do not have time for a long workout in the morning, perform this 5 minute workout to help you get that body up and moving. All the exercises are bodyweight only so no equipment is necessary. Just get your body energized with this super routine.
Wake up with this 4 minute workout to get your day off to a great start. In time you can do multiple sets of this workout but begin gradually and make this workout part of your daily routine. This workout has all the exercise staples that everyone should include in their routines! So follow along and have fun! Try to perform this routine along with the others every day and make it part of your lifestyle.
So are you ready to get fit and wake up your body to energize your day? Then follow along and get your body going!
{{#comments_count}} Show Commnents ({{comments_count}}) {{/comments_count}}