9 Awesome Reasons to Try Pilates ...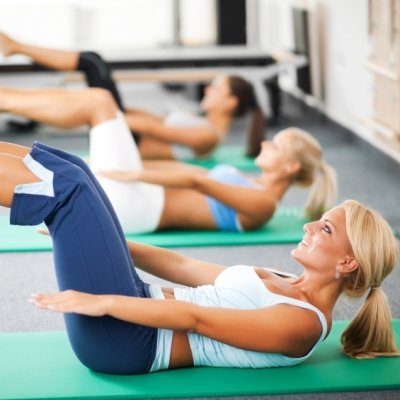 Women who are looking for viable options to create a more toned body should examine the many awesome reasons to try pilates. These exercises are an exceptional option for overall wellness. They do not present a high impact exercise plan that will leave you overexerted and making excuses for why you can't factor in a little time to complete them. If you wish to generate overall good health and an impressive body, let's examine nine reasons to try pilates.
As you learn the reasons to try pilates, you discover that the exercises will present you with a stronger core. While these exercises are similar in nature to yoga, you will learn techniques that define your core overall. This presents you with the right foundation to continue these efforts more effectively.
2.

Leaner, Longer Muscles
If you want leaner, longer muscles, pilates presents you with this opportunity. Strength training, in which you utilize weights, doesn't present you with elongated muscles. Weights will generate bulky muscles that fall short. As you continue through an exercise plan including pilates, you produce long, lean muscles that present you with a more structured yet more feminine physique.
Pilates will increase your endurance and allow you to exercise for longer periods of time. This is beneficial in that it presents you further opportunity become healthier. It will also provide you with more energy. Overall wellness requires that you have adequate energy levels to go about your day without feeling sluggish.
4.

Prevention of Back Injuries
These exercises allow your muscles to become more limber. As your muscles become limber, it reduces the likelihood of injury. These exercises will not cause back strain or the potential for injury like some exercise plans. This makes it beneficial for more mature women as it doesn't present a higher impact that could be detrimental to brittle bones.
5.

Tailored to Your Needs
As you review your individualized needs within a pilates exercise plan, you can tailor your efforts to accommodate your growing health needs and exercise goals. You can tailor these plans to meet these requirements without compromising your health.
As a result of pilates, you will improve your posture overall. The exercises help you strengthen your back and promote the need for enhanced posture as you perform each set of exercises. Improved posture presents the appearance of more self-confidence. While this presents you with overall improved health, it can do wonders for your self esteem.
7.

Achievable Weight Loss
Pilates presents you with achievable weight loss as it works every muscle in your body. This promotes consistent weight loss as you progress through your exercise plan. You will not only lose weight by participating in pilates, but you will also achieve a better overall shape.
8.

Mind, Body, and Spirit Connection
Like yoga, pilates presents you with a mind and body connection. Pilates promotes wellness on a physical and spiritual level. This includes practices that allow you to become more spiritually charged and at peace. This includes mediation exercises that help you to eliminate stress and negativity.
You achieve a higher sense of balance with pilates. This promotes the ultimate level of wellness and improved quality of life. Pilates provides you with the ability to become lean and stronger. During this process, you will eat a healthier diet that will also promote wellness from the inside out.
Pilates is the ultimate exercise program to achieve wellness and maintain a healthy weight. You will achieve all your health and weight loss goals by continuing through the plan you tailor to fit your life. What are some pilates videos or programs that you have tried that were effective?
{{#comments_count}} Show Commnents ({{comments_count}}) {{/comments_count}}