If you're looking to enhance your workout routine, protein powders can be a great way to get in a healthy source of easy-to-digest protein. Whether you're vegan or an omnivore, there are protein powders out there for everyone. The key is choosing a clean protein powder, and not a highly processed, chemical- filled one, or a variety loaded with sugar. Though all protein powders are processed, some are worse than others. Check out these 10 clean protein powders on the market, which include vegan and non-vegan options.
---
1

Sunwarrior Warrior Blend Raw Protein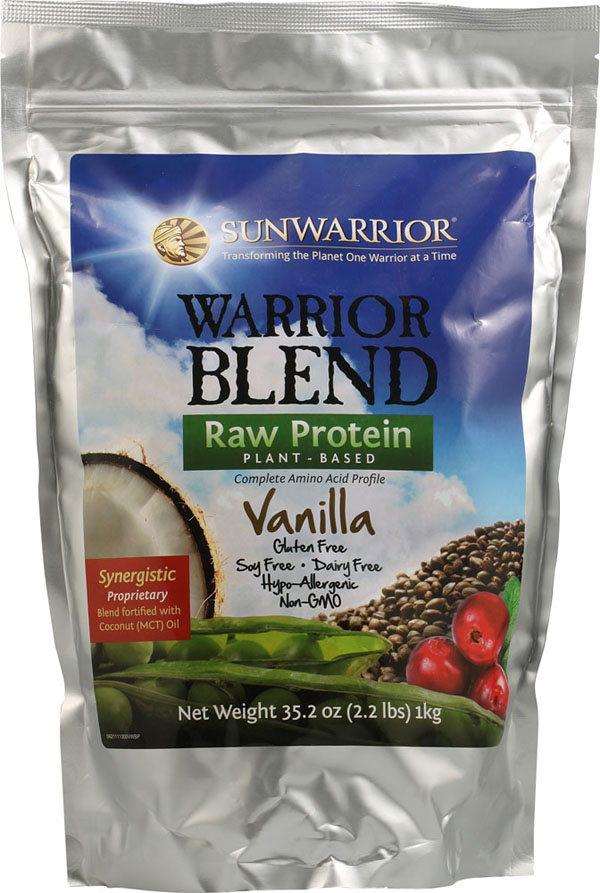 This is one of my favorite protein powders on the market, and it is increasing in popularity. Though it is a vegan protein, many non-vegans love this protein because it contains a complete source of amino acids, is organic, easy to digest, is non-GMO, completely raw, and contains no soy, sugar, animal proteins, gluten, dairy, yeast, or other common allergens. It includes a blend of hemp, cranberry and pea protein, which also make it low carb, one of my favorite features. This specific blend by Sunwarrior also contains medium chain tryglyceride fats from coconut oil, which increase energy and prevent inflammation. With only 80 calories, sweetened only with stevia, and high in protein, nutrients and antioxidants, this is truly a great product. It is also fairly reasonable in price compared to others on the market. This protein powder comes in vanilla, chocolate and natural flavors.
---
2

Vega One Nutritional Shake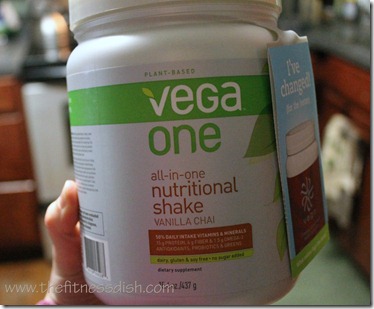 Vega One is one of the most popular protein powders because it is much more than just a base of protein. Vega One contains high-chlorophyll containing greens, superfruits such as acai, gogi and mangosteen, plus maca root for energy, and fiber from inulin to keep blood sugar levels stable and feed healthy bacteria in the body. Vega One also contains probiotics that aid in immune system, recovery and healthy gut flora. Vega One contains 50% of the RDA of all your vitamins as well, making it a great replacement for vitamins if you use 2 servings per day. It is also sweetened with stevia and contains no dairy, sugar, gluten, soy or animal proteins of any kind. Vega One does contain one filler from xanthum gum, which is a gluten-free source that is easy to digest and fairly clean when it comes to fillers. Available flavors include natural, berry, chocolate, vanilla chai and French vanilla. All the flavors are excellent and make a tasty protein pudding when mixed with water or a fabulous smoothie. Vega One contains protein, fiber, is low in fat and sugar, and high in antioxidants.
---
3

Sunwarrior Classic Protein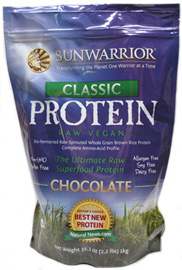 This product made by Sunwarrior is made from sprouted brown rice for a full spectrum of amino acids and is one of the cleanest, easiest to digest proteins on the market. It is also tasty and extremely popular with the vegan community. Sweetened with stevia and containing no preservatives, GMOs, gluten, dairy, animal proteins, yeast or sugar, this protein powder is an excellent choice for athletes or anyone wanting to add protein to their diet. Sunwarrior is a quality company specializing in only the best raw, organic products, and their protein powder is no exception. This protein powder comes in vanilla, chocolate and natural flavors.
---
4

About Time Whey Protein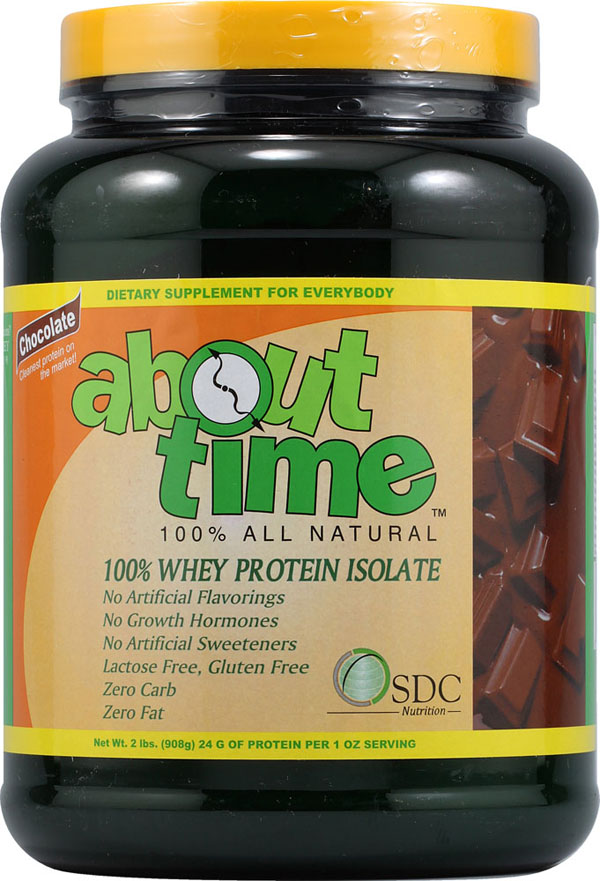 If you like whey protein, then you must try About Time whey protein. This protein is super clean with no antibiotics, GMOs, artificial sweeteners or sugar. It also comes in unique flavors such as Birthday Cake, Mocha Mint, Strawberry and Cinnamon Roll, along with the classic chocolate and vanilla, plus a few others. About Time is sweetened with stevia, is low in calories and contains all branch chain amino acids for a complete protein source. About Time also comes from whey isolate, a more digestible, beneficial form of whey versus concentrates, which are cheaper to make and not as available to the body for recovery.
---
5

22 Days Plant Protein Powder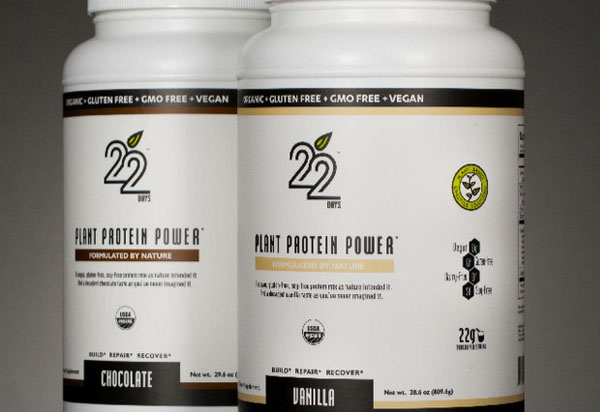 22 Days is a popular vegan company known for their energy and protein bars. Now the popular brand has come out with a protein powder that is excellent in its nutritional profile and protein base. Made from raw, organic hemp and rice protein, it contains no soy, GMOs, sugar, fillers, animal proteins, or gluten. 22 Days raw plant protein powder also contains a fruit and vegetable blend for an increase in antioxidants, and flaxseeds for omega 3 fatty acids and fiber. It is available in chocolate and vanilla flavors.
---
6

Philosophie Whey Natural Protein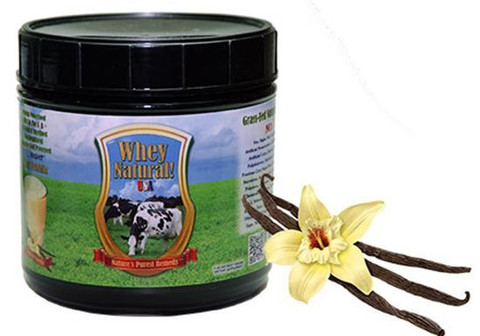 This product is the best of the best when it comes to whey protein options. It contains no sugar, soy, artificial preservatives, artificial flavors, GMOs, salt, artificial colors, flavor enhancers, chemicals, antibiotics, hormones, trans fats, binders, dyes, fillers, MSG, corn, gluten, yeast, hexane, or casein. Whoo! Are you impressed yet? This whey protein is from grass fed cows in New Zealand, where antibiotics and hormones aren't administered to cows like they are in the US. It is also 99% lactose free, making it easy to digest. This protein powder is also cold-processed, biologically active, unrefined, raw, and only contains whey protein from grass/green pasture cows, all natural vanilla beans and raw stevia leaf extract for sweetness. Philosphie also produces three superfood blends, two of which are vegan and one of which contains this fabulous whey protein powder.
7

So Cal Cleanse Organic Protein and Detox Shake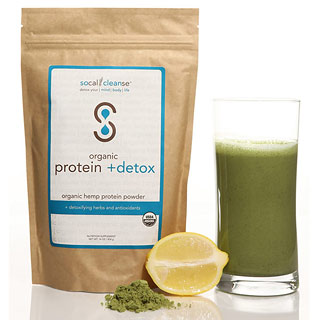 The world's first organic detox protein powder is now available through the So Cal Cleanse program. This product is excellent and is highly popular with nutritionists, celebrities and the general public. So Cal Cleanse Organic Protein and Detox is made from a base of hemp protein and includes ingredients to support your body and detox efforts, such as lemon peel, goji berries, milk thistle, maca, lucuma, ginger, slippery elm and bilberries. It is only sweetened with stevia and contains no fillers, stimulants or laxatives. It is very pricey, but if you're looking for the cleanest, best protein out there to support a detox, this is one of them!
---
8

Nutiva Hemp Protein Powder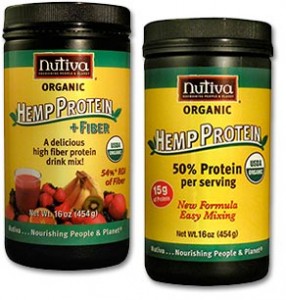 I love a simple, basic protein powder that is raw, non-GMO, easy to digest, vegan, affordable, and a complete source of amino acids. This is where I choose Nutiva raw hemp protein. Nutiva has strict standards on all their products, and their hemp is no exception. I've been using this protein for years and love how it contains all essential amino acids, plus Omega 3 fatty acids, fiber and minerals like magnesium to support lean muscle health. It has a naturally sweet, nutty taste too, so you won't have to suffer through a bland protein drink. Hemp protein is also alkaline forming, so it prevents inflammation and alkalizes the blood.
---
9

Spirulina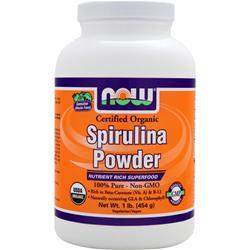 For all the purists out there, myself included, spirulina is a great source of vegan protein. Three tablespoons contain 12 grams of protein, almost 1500 times the required amounts of B12, 200% of your daily iron requirements and almost 3500 times the amount of Vitamin A you need each day. Spirulina is a deep green color because it is a deep sea algae that is rich in chlorophyll to alkalize the body and to aid in detox. Spirulina is great for your skin, eyes, skin, brain, heart, digestive tract, liver, energy levels, mood, blood and your muscles. It is easy to digest and highly available to the body. Just be sure to choose an organic, raw variety for the best form, since inorganic versions are often filled with toxins and pollutants. You'll definitely want to mix spirulina with some fruit, stevia or honey to sweeten it because it has a very green, earthy, ocean-like taste all on its own.
---
10

Garden of Life Raw Meal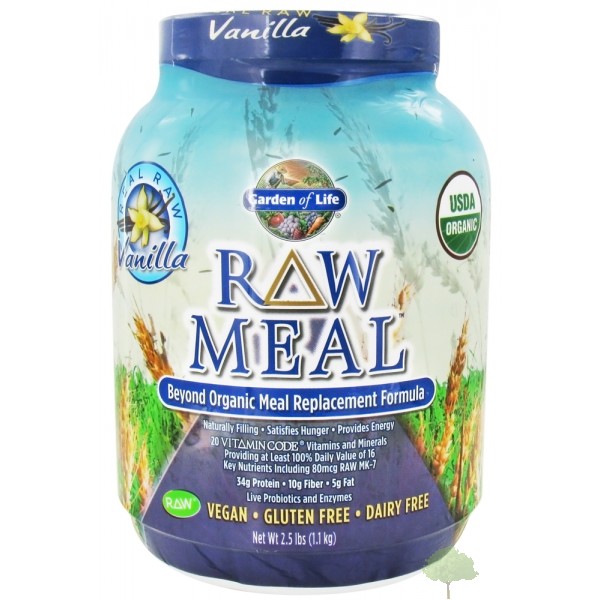 Garden of Life is one of the cleanest companies on the market to produce quality, raw organic products. Their Raw Meal is extremely popular due to its complete nutritional profile, including protein, fiber, greens, fruits, gluten-free grains, low GI sources of sweeteners, natural flavors and organic ingredients. Raw Meal contains no fillers, sugar, GMOs, animal proteins, gluten, lactose or hexane. The powder comes in original, vanilla and chocolate flavors. Garden of Life also just released a new protein powder called Raw Fit which has green coffee bean added for enhanced weight loss efforts.
There are several other protein powders out there that would be considered clean, so this is in no means a comprehensive list. These are, however, all products I have used and found helpful in living a clean lifestyle while still achieving good amounts of protein. I also find protein powders to be much more affordable per serving, compassionate and eco-friendly than consuming animal-base proteins. Choose one based on your personal preferences and nutritional needs. I would love to hear your favorite protein powders, so speak up and let's chat! What protein powder do you use?
---
Comments
Popular
Related
Recent