7 of the Best Workouts from Trainers around the World ...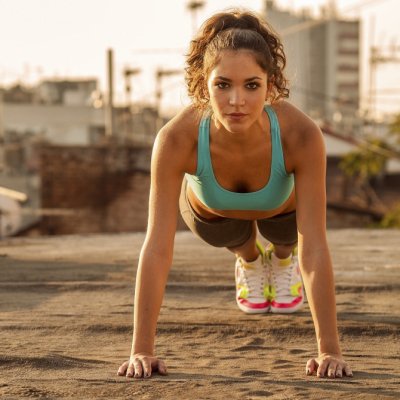 Trainers near and far will lead you to your best workouts to help you achieve super effective fitness and health results. So get your favorite fitness wear on, grab a bottle of water and get ready to work your body hard. You can achieve all your goals with hard work, a little bit of sweat and a positive attitude because positive people produce positive results. So are you ready to get started? Then check out these great trainer workouts:
Tone up your legs and abs with your trainer and motivator, Tara Zimliki (wait that's me!). Perform 3 sets of this workout to help you get started in toning your body into fit perfection. Are you ready for the challenge?
2.

Jackie's Going to Jack You up
Blast that fat away and chisel your abs with celebrity trainer and Californian native Jackie Warner. This trainer may look sweet and simple but her workouts are nothing like that. She will challenge you to find your inner athlete and work your body to the core.
3.

Jump It up with Jillian
In less than an hour you can boost your metabolism and help to banish fat. Kick those less toned areas to the curb and surrender to celebrity trainer and California native Jillian Michaels to kick your butt! There are 7 cardio circuit training in this video and each one is super intense. So jump that workout up with Jillian!
Californian and Biggest Loser trainer Bob Harper will help you to challenge every single muscle group so you can transform your body. This is definitely going to help you to push to the next level. In just one hour, Bob will show you moves that will help up the ante in your current fitness routine.
5.

Wow Yourself with Widerstrom
Born and raised in Chicago, Biggest Loser Trainer Jen Widerstrorm leads you through some powerful moves that can help you get into shape. Let this trainer give you the perfect prescription to a hard core body!
6.

Slim down with Suzanne
Get deep into your muscles by working your legs and butt with Suzanne Bowen's lower body fix. This group of exercises will help you achieve more in slimming down your mid -section than a bunch of crunches! Perform 3 sets of this video for ultimate slim down results.
I have to say I first thought Amy Dixon aerobics would be a bit old school but I was pleasantly surprised with this cardio workout. In 20 minutes you can really get a great burn targeting your total body. So put yourself to the test and perform along to this video. As you get stronger, repeat the video for a total of 40 minutes.
So are you ready to work your body to get in your best shape with all of those super trainers?
{{#comments_count}} Show Commnents ({{comments_count}}) {{/comments_count}}