7 Great Workouts to do with a Date ...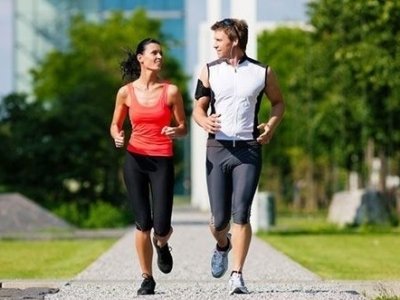 There are many workouts to do with a date that can have you breaking a sweat together while you create a bond. After all, there's nothing more romantic than burning calories and producing endorphins together. This is also a great way to see if there is chemistry in a relationship. See if your date has what it takes to go the extra mile with you and work out together by trying these workouts. Here are a few great workouts to do with a date:
Enjoy a heart racing experience by heading to an indoor rock climbing gym with your date. Sometimes the best way to test your chemistry is to go climb heights together. An indoor rock climbing gym is a great way to test your strength and see if you and your date are a match. You can also see how they react when under pressure and make sure your date is not a wimp. Indoor rock climbing is one of the best workouts to do with a date because it is so much fun.
Take your date to the great outdoors to try out a challenging hike. To set the date on the right foot, discuss the trail and distance in advance. Obviously you would not want to take your date on a 7 mile hike if they have trouble walking a mile, so assess their fitness level, pick a trail and go. You should plan on having a picnic at the end of the trail to end the date the right way. If you do not connect on this romantic date, this is certainly not the right connection for you.
One of the best dates I have ever had included a run followed by a relaxing dinner. So have your date meet you in running apparel and head for a 3-5 mile run. This is a good enough distance to get a great workout in without overdoing it. After your run, you can head to a casual restaurant for a meal or both head to your own home and shower. Then meet out for dinner, transformed in your decked out outfit. I prefer to go all out with a dress and heels, what about you? This date is definitely for the fitness lover that likes to run, because if not this could be the marker of a last date.
Get in sync together as you head out for dance lessons on a date. Even if you lack all the talent to dance like a professional, dancing is a great way to test your chemistry and see if you are a pair. Latin dancing, in particular, is a very sexy dancing style that is perfect for a workout date because of the sensual movement of your hips. So shake your money maker and get your dance on!
Going for a bike ride and dinner can be a recreational way to get a workout in while getting to know your date better. You can head to a downtown area, go for a several mile ride, then lock your bikes up and head in to a nearby restaurant to enjoy a fine meal together. Who knows? You may even create some new memories and swap great stories as you pedal along!
Whether you are racing down a ski slope together or relaxing as you sip tea in the lodge, skiing is a great way to work out on a date while getting to know your possible beau better. Make a full day out of it with lunch, dinner and some tea in between. And a major bonus is that a full day of skiing can burn up to 1700 calories and that is definitely not too shabby!
Maybe you have always wanted to try surfing or diving, but did not know just how to start. You should try this with your date for a new workout experience! If this is a new experience for you both, you will be amazed at the lasting bond you can create. So test the waters together on your next date!
Hope you will try some of these workouts with your date! What are the best workouts that you have ever done on a date?
{{#comments_count}} Show Commnents ({{comments_count}}) {{/comments_count}}